What some of our volunteer special friends have to say:
"I don't really think of it as volunteering. It's more like hanging out with good friends."
"Volunteering has enhanced my sense of the gifts that people with a disability bring to life."
"He puts all of life into perspective.  We have a great deal to appreciate and enjoy in each other."
Office volunteers team up for coffee and conversation to prepare mail-outs of our Gratitude newsletter.  Volunteers may also help prepare for events such as a L'Arche Winnipeg art show, take care of shredding, photocopying, collating, or making phone calls.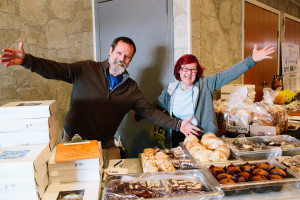 The Annual Walk With L'Arche is traditionally held the first Sunday each May and offers many opportunities for volunteerism. From the grounds crew team that set-up and clean-up to many vital roles in between (registration table, walk marshals, first aid, water, check-in, L'Arche Tova Café bake table and children's face painting tent to mention a few).  We welcome your inquiries.  Pictured above are two of our volunteers at the Annual Walk With L'Arche.
What a volunteer at the L'Arche Tova Café has to say:
"…life can be meaningful regardless of its challenges.  And that is the atmosphere one encounters at Café Tova. For me it is an enriching experience and I look forward to volunteering."
Congratulations to the L'Arche Tova Café volunteers who are this year's recipients of the Premier's Volunteer Service Award in the Community Group category and to Stacey Friesen who is a recipient of a Mayor's Volunteer Service Award.                         Together volunteers at the L'Arche Tova Café create a team that provides a warm welcome and excellent service.        Our dedicated volunteers will be recognized at the 34th Annual Volunteer Manitoba Awards event at the RBC Convention Center on Tuesday, April 25th, 2017.
L'Arche Winnipeg is grateful to all the volunteers who commit their time to the values of caring and creating community.       Thank you!
email: volunteer@larchewinnipeg.org