L'Arche Winnipeg Community Fund in Honour of Jim Lapp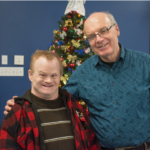 The new endowment fund named after Community Leader Jim Lapp honours his lifetime of dedication to L'Arche Winnipeg. Jim has been part of L'Arche Winnipeg for over 47 years, and the Community Leader for the past 12 years until the end of 2021, when he will retire. Jim's dedication to his community and passionate advocacy for the rights of people with intellectual disabilities inspires everyone to take action towards a more compassionate and inclusive world.
The L'Arche Winnipeg Community Fund in Honour of Jim Lapp has a matching partner. Generous supporters Tova and Larry Vickar will match donations, dollar for dollar, up to $50,000. We are very grateful for their support.
The dividends will support the core members of L'Arche Winnipeg in areas that are close to Jim's heart. Make known the gifts of people with intellectual disabilities and social inclusion are only some of them.
Please donate and help us continue working towards a world where everyone belongs.
Click here to donate.
Thank you.
---
Winnipeg Foundation Agency Fund Overview
---
Every individual has special gifts to share regardless of their intellectual ability. For over 40 years, L'Arche Winnipeg has worked towards creating a more compassionate society by leading through example and providing loving homes for adults with developmental disabilities.
People with intellectual or developmental disabilities often suffer from social isolation. L'Arche fosters an inclusive environment for everyone by providing programming that allows members to participate in meaningful activities that encourage new friendships and so much more. Your contribution will go a long way towards improving the quality of life for our community members.
Remember…every donation counts towards making a difference in the lives of people with a developmental disability.
Make a credit card donation through CanadaHelps.org 
You can also donate securities and mutual funds through CanadaHelps – the largest processor of online security and mutual funds donations in Canada. Please use the link below for more instructions: