L'Arche Tova Cafe is a social enterprise established in 2012 by L'Arche Winnipeg Inc. to further our mission of making known the gifts of people with developmental disabilities. In addition to providing wholesome food and great service, the L'Arche Tova Cafe strives to: provide meaningful employment to people with a disability, encourage the general public to interact and get to know people with a disability, demonstrate social responsibility and ultimately to build a more compassionate society. Your patronage is appreciated and demonstrates that you also believe in building a more compassionate society…one cup of coffee at a time.
Volunteers at L'Arche Tova Cafe are recipients of two awards through Volunteer Manitoba in 2017: The Mayor's Volunteer Service Award and the Premier's Volunteer Service Award in the Community Group category.
In 2018 L'Arche Tova Café received the Community Enrichment Award through Casera Community Awards Leadership and Enrichment.
L'Arche Tova Café has enjoyed hosting a Paint Night and Music Nights and you may learn about these and other events through the monthly e-mail.
L'Arche Tova Cafe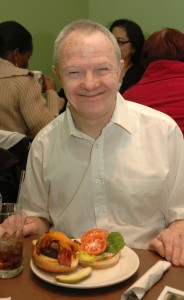 119 Regent Ave West, Transcona Hours of Operation Tuesday to Saturday: 8:00 a.m. – 2:00 p.m. For reservations please call: 204-421-9388 Reservations gladly accepted.  
We recommend a reservation for groups larger than four.
+ Email:  larchetovacafe@larchewinnipeg.org
+ See also www.larchetovacafe.com
+  L'Arche Tova Cafe gift cards are available for purchase at the Cafe.
+  The Cafe is an internet hotspot: you can check your emails while sipping fair trade coffee!
+  The Cafe accepts cash, debit, Visa and MasterCard